It was a rough week from work. To add it up I'm experiencing difficulty in dealing with it emotionally which leads to a bit of insomnia and lost of appetite with my daily meals. And due to this my skin is taking it badly. I don't usually have that much pimples on my face. But this week was so bad my skin is breaking out which adds to my current stress. My current MAC concealer is much more suited for the under eye area and not for pimple coverage. So I went to the mall to cheer myself up.Hitting two birds with one stone. hihihi Malls have this ambiance effect on me that makes me feel like everything will be okay. While going around I noticed the newly opened shop called
Laneige
. It's a Korean skin care and cosmetics brand. Laneige means snow in french. It's the leading skin care brand in Korea specializing in water treatment studies for skin products by Amore Pacific. Their current brand image is Korea's prettiest and top actress
Song Hye Kyo
. She has been their endorser since 2008.She has a face of an angel. Can't help but gush on how pretty she is. XD I love how gorgeous she is even with the natural make-up look. I've always been a fan of her ever since her first Korean drama Endless Love.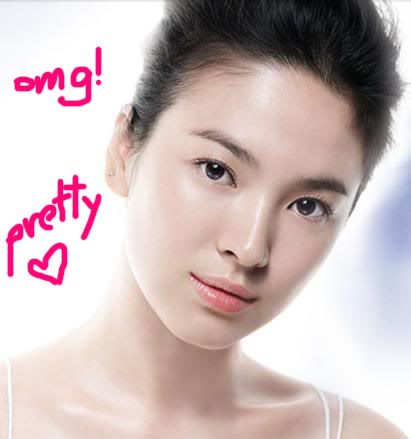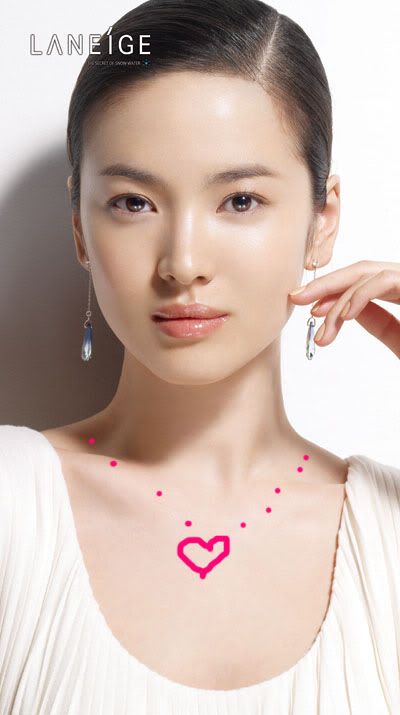 Yes I love Korean skin care and their make up as well since they compliment with my skin. I went to the store feeling giddy like a child in a candy shop! hihi XD So I was browsing the store looking at different stuffs then I asked the make-up technician to help me out with my current dilemma. She took off my make up off using the make-up remover and saw the little pimples and marks in my face. I explained it to her that it's just due to a great level of stress and said that I want a light foundation that will cover it up and will make my face glow. Then she said that she recommends the
Snow Crystal Dual Foundation with SPF22 PA+
and tried it on my face.
I bought it for PHP 1,800.00 and went home all cheery and glowy.

I don't use any foundation on my skin mainly because I don't like it when my face looks too cakey from the foundation powder. But with this one, it looks so smooth, clear and glowy. I can barely see the foundation on my skin. She also used the concealer that comes with the foundation bottle around the under eye area.

The make-up technician told me that the foundation is water based with powder particles for the smooth finish together with Vitamin E that keeps the skin healthy, radiant and prevents premature aging. After how many hours, my face still looked fresh and luminescent. My skin was still glowing even though I was already sleepy! Lol. The foundation was applied to my face around 3pm then I took it off around 1am.


Snow Crystal Dual Foundation with SPF22 PA+
To use the foundation:
-Lightly shake the container, pump 1-2 times and dispense an appropriate amount of the product to evenly spread from the large area of the face.
-If you need to add more coverage, reapply the foundation, and for the partial blemishes and spots requiring color correction, lightly cover using the concealer to get ceramic-like skin look.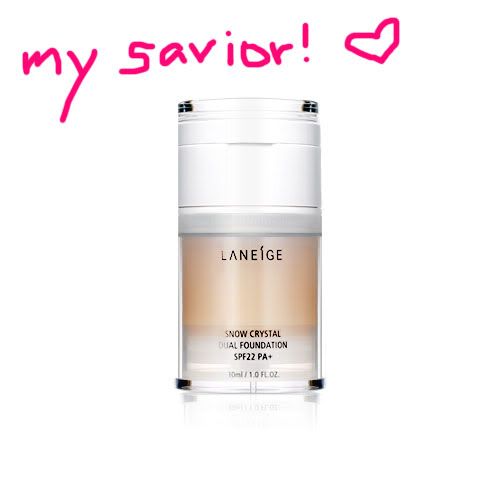 What I like more about it, it comes with a matching concealer, and it perfectly covers the small unwanted spots that are usually hard to cover. Skin feels fresh and smooth. Plus it also protects your skin from the sun and outdoor environment with its functional SPF 22 PA. They have plenty of skin shades to choose from. Mine is the Natural Beige 21. And it's perfect with my skin color. <3


With this experience I'm looking forward to try their skin care. I'm obsessed with skin care! LOL Day and Night I have this routine which I religiously maintain no matter how sleepy I am! And yes it pays off not to be lazy when it comes to taking care of your skin. This is gonna be the beginning of my laneige obsession. Hihihi :D

For more product information you may visit their website
www.laneige.com
. I got some photos from their site as well. : )
Overall Product Rating: 5/5 <3
Are you familiar with the laneige brand?
Have you tried any of their stuff? Share it to all the girlies! :D

If you have beauty questions please feel free to ask! XD I'll do my best to help you out.

Much love,
Lolita <3